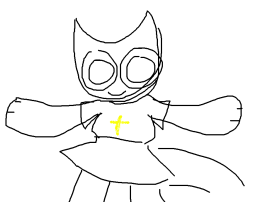 SHEET:


SPECIES: 3/4 DEMON

AGE: 17

ALIASES: GOD SEND GIRL

ASSOCIATES: ARADIA BISHOP(BEST FRIEND/LOVER?), JIAO FAN BAI (MOTHER), C-04N-3114 (FRIEND)

LIKES: ARADIA BISHOP, GOD, JESUS, HAMBURGER'S, MILKSHAKE'S, SKIRT'S, BEER, GRASS, GREGORIAN CHANTING

DISLIKES: ATHEIST'S, RUDE PEOPLE

Zara is the product of a one night stand with her mother, Jiao Fan Bai and the Devil. Due to this, she has much stronger demonic attributes than someone like Aradia. This young girl is actually extremly extrovereted BUT lacks any knowledge on social customs or mannerism "you smell good!" Most of her education on normal human behavior has come from watching TV. Drinking hose water, smiling with all her teeth out and licking old bible pages are some of her hobbies.


She is often seen in a large white T-shirt bearing a cross and a white skirt.



Her horns feel like smooth skin.


FUN FACTS!!!!!!!!!!!!!




-ZARA CANNOT READ
-ZARA HAS A HIGH ALCOHOL TOLERANCE
-ZARA HAS AN IQ OF 81
-ZARA CAN SPRINT ON FOUR LEGS